UNITED BULAWAYO HOSPITALS RECEIVES A DONATION FROM OPHID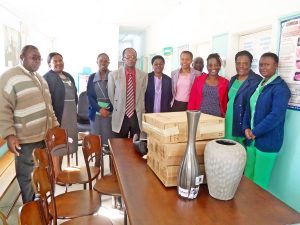 The Organization for Public Health Interventions and Development (OPHID) donated goods to UBH VIAC department which included a kitchen table with 8 chairs, a water dispenser, 2 office chairs, 2 examination stools, 3 fans, 2 flower vases and a laptop.
Present during the handover ceremony was Dr. Dzvanga the Clinical Director, Sister-In-Charge at the VIAC department B Gowera and other staff members. Representing OPHID was Dr. T. Mhlanga and Mrs. S. Mazivisa.
The donation will go a long way in improving the quality health care services in the VIAC department. The Hospital management and staff from VIAC really appreciate the donation and promise to put the donated items into good use.